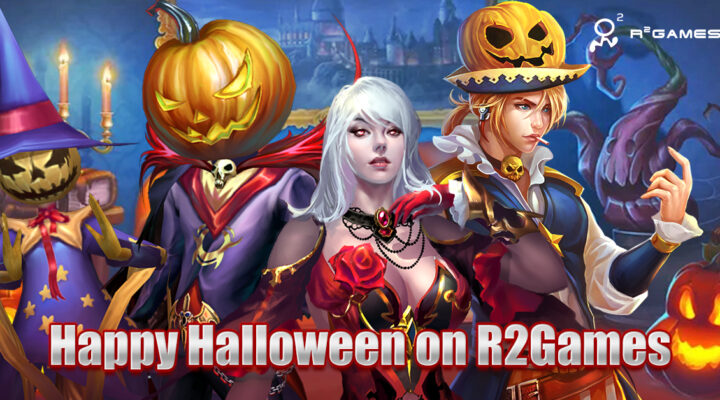 R2Games, one of the world's most popular browser gaming platforms, is holding an absolutely massive Halloween event.
In fact, you can think of it as 11 events, with pretty much every game on R2 getting in on the action at some point between October 22nd and November 6th.
That list of games includes Omega Zodiac, World of Rune, Eternal Fury EU, Eternal Fury 3.0, Scarlet Fate, Crystal Saga, Angel's Call Idle, The Third Age, Dragon Awaken, Evil Awakening, and Blade of Kings.
All the big hitters, plus a bonus mystery game. To learn about that one you'll have to read on.
Angel's Call Idle is getting three new SSR+ heroes at the end of October: a human mage called Elsa, an orc tank called Van der Tak, and a demon warrior called Rahu. They all look pretty badass.
World of Rune is holding a straight-up Halloween party. To attend, you just have to finish consecutive logins, smash some eggs, and do something with a "joyful bun".
In return you'll receive all sorts of rewards, including a Pet Boss Egg, an MVP Gear Selection Chest, and a Sunlight Stone. This one is running from October 24th until October 30th.
In Scarlet Fate you'll get to spin the Discovery Wheel and win a Halloween-exclusive character called Eri.
All you need to do to earn a spin is stay online for one minute per day. You can increase your spins, however, by stretching that to 30 minutes, an hour, two hours, and three hours. The maximum number of spins you can earn in a day is five.
There's more, but it's time to take a look at that mystery game.
Sword Masters is the latest title to arrive on R2Games, and it looks like another winner. This anime RPG sees you teaming up with Kirito and Asuna to clear all 100 floors of Aincram, as well taking part in PvP, PvE, and Guild Battle modes.
It throws in a few more challenges, too, including farming, fishing, and mining.
To check it and, while also taking advantage of the R2Games Halloween event, head to R2Games right now.